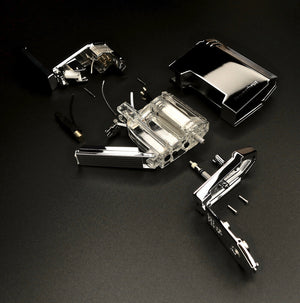 Lighter Warranty And Maintenance
Our Prometheus lighters are built to last and can be repaired.
Lighter Warranty And Maintenance
Our Prometheus lighters are built to last and can be repaired. They are not disposable products but timeless modern classics. In this page, you will find information on Prometheus 2-Year Limited Warranty and Lifetime Repair Service. Almost 30 years have passed since the inception of the Prometheus brand in 1992. However, everyone at Prometheus is still very passionate about making lighters and excited about continuing our tradition of innovations and cutting-edge designs. In this page, you will also find information on Maintenance Guide and Technical Support. If you have any question or need assistance, please fill out the below form for customer service request. We will get back to you as soon as possible. We would like to thank you for using a Prometheus lighter.
How To Refill Your Lighter
Please read the below instruction for how to refill your lighter properly. If you use your Prometheus lighter every day, we recommend you to refill your lighter at least once a week. If you are not using your lighter frequently, refill it when the gas level gets low. When the gas level gets low, the flame of your Prometheus lighter gets weak or low and it is time to refill it. The latest Prometheus lighter models come with a large gas window whose color changes when gas level goes down. Your Prometheus lighter can be used for many years if you refill it with clean butane gas and handle it with care.
How To Change The Flint
If you are using Prometheus Retro (flint torch) or soft flame flint lighters, you need to put a new flint when your lighter flint wears out. See the below flint replacement instruction. Prometheus flints can be purchased at premium tobacco shops or from our web site. Note that if your Prometheus lighter is a torch or soft flame electric piezo lighter, your lighter does not need flint.
How To Correct Misaligned Ignition Spark Wire
The second most common cause of the lighter malfunction is the misalignment of the electric ignition spark wire. The electric piezo shoots out an electric spark via Ignition Spark Wire, which sits above the flame holes. When this spark is shot to the butane gas flowing upward, flame is ignited. After the lighter is dropped or used for a period of time, Ignition Spark Wire sometimes gets misaligned. When this happens, the electric spark will not be shot to the center of the flame holes where the butane gas comes up, and flame will not be ignited.